The Owner Handler Store
|
home


2006 Yearbook

The Yearbook is the serious Owner Handlerís Best & Affordable Format.

The Yearbook will be affordable in a B&W format on beautiful cream colored paper.

Advertisers will receive 1 complimentary issue as proof of their ad(s).

The yearbook will be mailed to advertiser's choice of 10 judges

plus noted popular judges from our updated distribution list

as well as the Top 250 judges of Owner Handlers' choices.

FORMAT IS FULL SIZE 8.5 X 11, Cream Tone Pages, Stapled Spine*
*stapled spine: if we exceed volume of pages where stapling will not fit well we may opt at our discretion to use an alternate spine method.
(see a past issue of ACE quarterly below)
2006 Yearbook

The Owner Handler Event

Great For Showing

Off Wins !

Great For Introducing

A New Hopeful !

AFFORDABLE * PROFESSIONAL * TIMELY DELIVERY

PRICES & DEADLINES

Early bird deadline - May 30, 2005
Early birds take 5% discount off posted prices below

Final deadline for all copy - July 31, 2005
Expected distribution date: Aug 25, 2005 - Sept 1, 2005
Distribution type, media or first class mail, no bulk mail
Prices & Currently available:
Regular full size page Still ONLY $59
Half page $39
1/4 page $25
1/8 page $15
_________________________________________________________________
COVER INFO:
ACE will accept reserves on covers for a 50% deposit. All covers reserved must have their balance due paid no later than 30 days from deposit date. Deposits are non-refundable, but we don't believe in you losing your money, so if you reserve a cover and can not commit to it, your deposit dollars will go toward the price of regular full size page(s) or
on-line ad brags
until you have a zero balance. However, before attempting to reserve a cover, please contact us to make sure it is still available. In every effort we try our best to update this website frequently.
Front Cover $325




Back Cover $275




Inside Front Cover $275




Inside Back Cover $250




All advertising is pre-paid

Preferred payment method is Paypal




All photos & text can be e-mailed directly to us at

ChTitan@the-i.net

, there is no need to send your only show photo through the mail and take a chance on damaging or losing it. However if you do not have a scanner we will be happy to scan for you and send back, please add appropriate postage.

Just to let you know...we've never lost any of those precious show photos!

Checks may be made payable to
American Canine Exhibitor
6273 FM 1833
Robstown, TX 78380
USA
SEE PREVIOUS COVERS BELOW
SEE MORE PREVIOUS ADS BY CLICKING HERE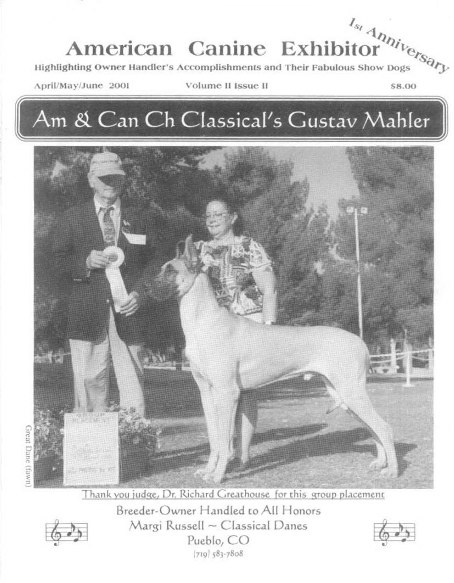 BACK COVER OF SAME ISSUE BELOW